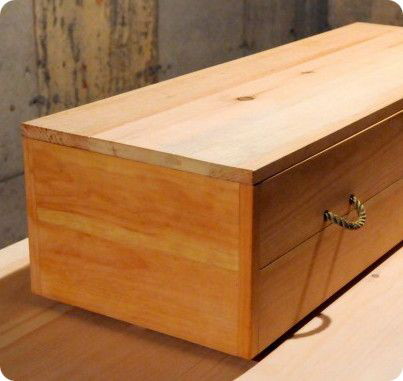 A number of our families have chosen to skilfully craft their own coffin either for burial or cremation.
If you have the time, expertise and tools, a bespoke coffin is a fitting gesture.
Timing
Don't underestimate the time involved, sometimes a coffin is required on the day of or day after death.
Here are some guidelines:
Natural Burial
Coffins for natural burial must be constructed of biodegradable, sustainably grown timber. No metal or plastic fittings are permitted with the exception of metal screws and nails. No toxic glues, oil based paints or synthetic stains or varnishes should be used.
The coffin must be lined with natural fibres, cottons, linens or wool fleece. The waterproof membrane should also be biodegradable – we recommend corn-starch film.
Conventional burial or cremation
Whilst it is not essential to follow the same requirements for a natural burial – it does make sense to minimise the environmental impact of burying or burning man made materials.
Construction & design
A four sided rectangular 'oblong' coffin is simpler to make than a six sided 'kite' shaped coffin. Information on designs and construction are readily shared online – search DIY coffin.
Handles must be secure and load bearing – a full length rail handle enables more pall bearers than the standard six handles. Rope handles can cut into your hands if the coffin is being carried any distance.
Ensure that the coffin is well constructed and will bear the required weight – test it.
FOR CREMATION, THE COFFIN MUST HAVE A COMPLETELY FLAT BASE
Coffin interior
If you are planning to line the interior of the coffin a simple draped quilt, blanket or sheet will do or you can fully line using fabric cut to size and upholster using minimal tacks or staples. The coffin should have a leak proof membrane underneath the textile lining.
Size does matter
Consider the logistics of transferring the coffin in a vehicle and through doorways.
EXTERNAL DIMENSIONS OF STANDARD COFFINS
NOT INCLUDING HANDLES
LENGTH
WIDTH
HEIGHT
 IMPERIAL
Small
1702mm
508mm
331mm

5'7" x 20" x 13"

Medium
1855mm
559mm
356mm

6'1" x 24" x 14"

Large
1982mm
610mm
407mm

6'6" x 24" x 16"
Burial
When booking a burial, cemeteries require the exterior dimensions of the coffin (including handles) so the correct size hole is dug. Coffins over a certain width and length may incur extra charges from the cemetery. An oblong (four sided rectangle) coffin may also incur an extra fee.
LOCAL CEMETERY STANDARD DIMENSIONS INCLUDING HANDLES & BEFORE INCURRING EXTRA WIDTH FEES
LENGTH
WIDTH
HEIGHT
Karori
2080mm
690mm
500mm
Whenua Tapu
2400mm
690mm
500mm
Cremation
Cremator doors at our public crematoria are a fixed height and width.
LOCAL CREMATORIA MAXIMUM COFFIN DIMENSIONS
INCLUDING HANDLES
LENGTH
WIDTH
HEIGHT
Karori
2400mm
880mm
500mm
Whenua Tapu
2400mm
700mm
500mm
If in doubt call your local cemetery, crematorium or contact us for advice.