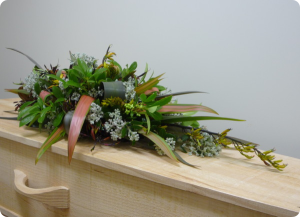 Fresh flowers and foliage provide colour, scent and soft organic shapes. Floral arrangements can be made more personal by incorporating flowers, herbs or vegetables from home gardens.
At the end of the funeral ceremony, foliage may be placed on the coffin, an opportunity for those attending to offer a final and tactile farewell.
We recommend
Vanessa from Woodstock on Kent Terrace has been in the business of flowers for years and a proud supporter of New Zealand growers. She's eco-conscious and innovative having designed a solution to eliminate oasis from her creations. As a workroom based florist she admits to being 'a little obsessed with beautiful flowers and foliage'. Thought and consideration goes into her funeral arrangements, as she likes a detailed brief and likes to get them 'right'.
In town Flowers Manuela on Abel Smith Street. Manuela and her team have worked with a number of our families to create stunning arrangements. You can talk to them directly about what you want – flowers for the venue, buttonholes, individual stems, wreaths, traditional or contemporary coffin sprays.
Broadbent & May can organise the flowers on your behalf or you can make your own arrangements involving family and friends or alternative florist.